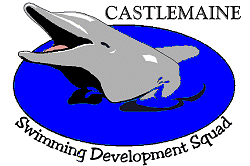 APRIL 2001 NEWSLETTER
Due to events such as the Castlemaine Festival, it has been difficult to find a suitable time to run this term's Mini Competition. As a result, the competition scheduled for Saturday the 24th of March has been cancelled.
Training Report
Term 1 has produced interesting results in terms of skill development among the Junior groups. I had programmed a "Breastroke Crackdown" for this term to ensure all swimmers are performing the breastroke technique correctly. This has worked quite well with 99% of swimmers performing the breastroke perfectly! Intermediate and Senior swimmers have been engaged in some time paced sprint workouts, hopefully improving on fitness levels, stroke efficiency and tumble turn practice.
There have been some swimmers entering the water prior to their swimming session. I STRONGLY discourage this practice for multiple reasons. Firstly, any child under 12 years is not permitted to enter the water without direct adult supervision; this sounds ridiculous to us as our children swim well, however, the rules apply to everybody. Secondly, training sessions are designed with energy levels in mind, and if a swimmer has exerted his/herself prior to training, the swimmer may not get the most out of a session. Lastly, it is common practice for all swimming schools to allow swimmers in the water only when their session begins. Aside from legal issues, it is my request that all swimmers refrain from swimming prior to a training session.
School Swimming Sports.
Attached is a form relating to any school sport results during the last few weeks. If you have any details of school swimming results, could you please fill out the form and return it to me as soon as possible. These results will appear in the next newsletter.
Term 2 Enrolments
Please ensure that you have spoken to Cindy or myself regarding any change to your current enrolment. We are now organising term 2 groups and need to be notified of each swimmer's intention to return by the end of next week. We have only limited space available for new squad members so ensure your position is secured early.
Log Books
Information regarding the keeping of logbooks for Intermediate and Senior swimmers is available from me. I encourage all swimmers in these groups to keep a log book to record training sessions, swimming competition results and anything else relating to each individual swimming program. I will also discuss the use of logbooks during training this week.
Keep Swimming. Donna Petrusma